Read the facts & figures about the coolest hangout for your vegetables, fruits and mother fresh products.
Measurements
Stand up straight
The standing height in your Groundfridge is 200 cm. Thanks to its wide tunnel entrance, even your record-breaking homegrown eggplant will fit into your Groundfridge.
Pump up the volume
The total air volume of your Groundfridge is 7,8 m3. The shelves store a stunning 3000 liters. That's about as much as 12 big family fridges!
Going underground
After your Groundfridge is dug in, the hill will be at least 1.5 meters above ground level. The more sand you cover your Groundfridge with, the better it will isolate. The lowest point will be about 1.85 m deep.
Product sizes
Amongst some other, relevant but boring numbers, the cross section of the Groundfridge sphere measures 225 cm
Fun Fridge facts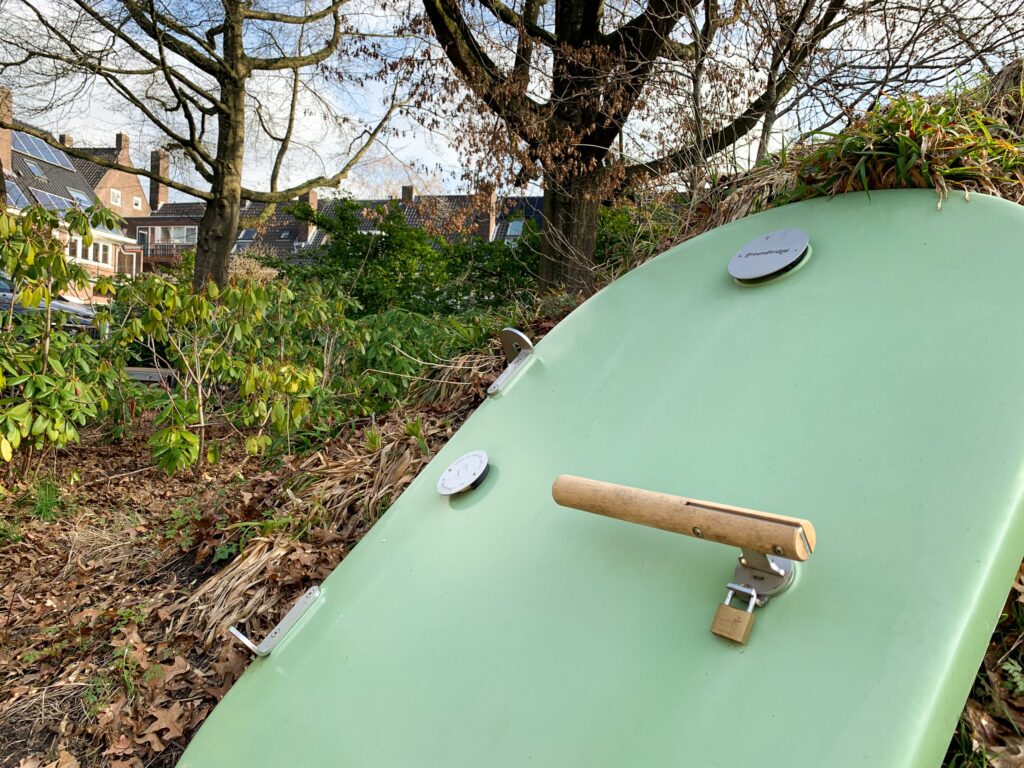 Lockable
Your Groundfridge is lockable to keep your wine collection and apple pies safe.
Light
The groundfridge lights up when you open it, just like your fridge.
Timer
Smart but simple timer of the ventilation system.
Ventilation System
The clever ventilation system is 100% solar-powered and has a simple timer.
Lifting Eyes
Got a crane standing around? Groundfridge's lifting eyes are precisely placed for easy horizontal lifting and installation.
Gel coated skin
Keeping your fridge clean is super-easy thanks to its gel-coated wall.
Wooden shelve
If you happen to have a polar bear family over, easily take the wooden shelves out.
Weight
Your Groundfridge only weighs 500 kilos. That's it! So easy to transport or even carry.
Digging
Want to install your Groundfridge carbon-free? Forget about excavators and get some shovels instead. In about 100 person-hours the job is done.
Keeping it cool
Inhalation
Smart adjustable ventilation system that uses cold nights to keep the Groundfridge cooler. How? The ventilation is actually an inhalation system. It inhales the cool air and pushes out the warmer air. It helps most during cold nights with warmer days in spring and autumn. Play with it, its a cool game!
Shadow maker
Smart vegetation helps to keep the sun out and the cool in. Big-leaved plants and bushes reduce heat and can influence the Groundfridge temperature by 1,5 degrees. Planting insulates in winter and has a cooling effect in summer! What's your best local green shadow maker?
Free Freshness
Chill groundwater is your best friend! It has a constant freshness temperature of 10 degrees during the whole year and can help to cool the Groundfridge. The groudnfirdge is made like a boat so don't worry about water.
Installation
The price of a Groundfridge is €15.900,00 including Dutch VAT (that's 21%) excluding installation. You'll have to commission this yourself. Be sure to consult the Installation Manual. Want to get in touch with an installation partner? We might be able to help you out, so get in touch.
Plants for extra insulation
What to plant over your Groundfridge? Anything you like. Local plants, a tree, your own crops… Planting insulates in winter and has a cooling effect in summer. The more dense the vegetation, the greater the impact. A big tree or bush provides shade as well. What's more, it looks great too! Some suggested planting: sedum, ivy, grasses, prairie plants and trees.
Downloads
Whatever you'd like to know, we have it available as a download:
Groundfridge Product Sheet
Groundfridge Safety Instructions
Groundfridge Installation Manual
Groundfridge Assembly Manual Shelving
Groundfridge Terms of Sale and Delivery